This content has been archived. It may no longer be relevant
AB60 is coming and we are just months away before this new law goes into effect.  California Department of Motor Vehicles is currently preparing for this change and modifying their facilities to accommodate this new process.  The change is so big that the California Department of Motor Vehicles updated their main website page to provide updated news and guidelines of this new law.
Governor Jerry Brown signed AB60 into law on October 3, 2013, extending the legal right of millions more people to drive on the state's roadways.  California's undocumented immigrants will now have an opportunity to get a legal driver's license by following a few guidelines.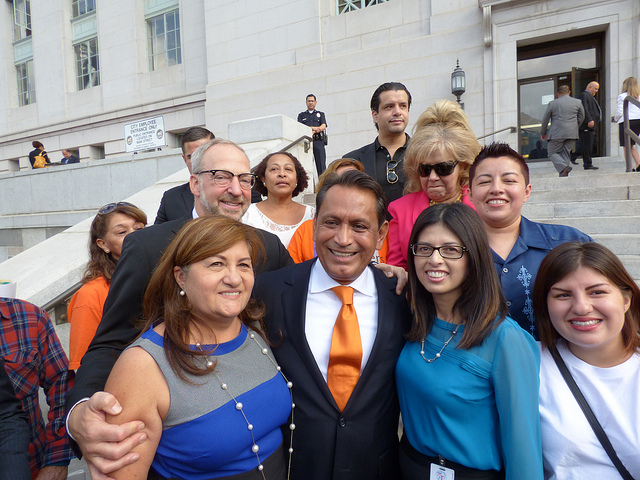 image: "AB60 Signing Ceremony" by Eric Garcetti is licensed under CC by 4.0
On January 1, 2015, immigrants who are unable to provide proof of legal presence in the United States will benefit from AB60 under certain qualifications.  DMV is currently working diligently to define the criteria for satisfactory proof of identity and residency and has already released a proposal.  Based on this proposal, an applicant must provide one of the following for proof of identification:
One foreign document, which is valid and recent and  approved satisfactory proof by the Department of Motor Vehicles
Two documents from below that qualify:
Foreign document, but cannot be verified by party that issued it
Foreign passport
Federal government issued identification card with a current photo of the applicant
A valid CID (consular identification) document approved by the Department of Motor Vehicles
If none of these requirements can be met, and an applicant cannot provide such documents, a secondary review of one of the following will also be accepted based on DMV approval.
School document
Form I-589 which is an Application for Asylum and Withholding Removal
DHS form I-20 or form DS-2019
Marriage license (must be translated into English)
Divorce Certificate (translated into English)
Foreign driver's license
Income tax return
Excerpts taken from:
Department of Motor vehicles. Retrieved from Express TermsTitle 13, Division 1, Chapter 1,
Article 2.0 – Driver Licenses and Identification Cards.
Other states that already issued driver licenses to undocumented immigrants reported that over 70 percent of the people that took the DMV test in other languages failed.  Current statistics show that 50 percent of the people who take the written test fail the first time.
It's not going to be an easy task to get a driver's license.  Applicants will still be required to pass a written and behind the wheel test once this bill goes into effect.  They are encouraged to study the California Driver Handbook and take the practice tests available on the DMV website.  The handbook and sample tests can be found in over 10 different languages.
Although, driver education is not required, taking a course would further your knowledge in all aspects of obtaining a driver license and driving on California roads.  Applicants are also encouraged to take driving lessons to apply their knowledge in real life driving situations and just to practice their driving skills with a licensed driving instructor.